Restore
Teeth

In Jefferson City With Dental

Fillings

Advantages of Fillings | What Are Fillings Made Of? | Schedule Your Visit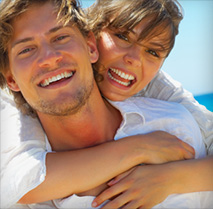 No more black or metal spots on your teeth. Open wide and smile with confidence. We offer tooth colored fillings at our Jefferson City dentist office that match the color of your natural teeth so your smile stays white and bright.
Tooth colored fillings are also referred to as white fillings. They are dental fillings that restore, and have the same look and structure of your natural tooth. Tooth colored fillings are used to restore teeth that are decayed, chipped or broken, and they are also used to change the size, color of shape of a tooth. These dental fillings are used to close gaps between your teeth, repair chipped teeth or to straighten teeth more or even in appearance.
"They have always been good to me, and keep my teeth clean and in good shape, and take my insurance where most places won't. They have the latest equipment and the time it takes to have X-rays is cut in half. Mary does a great job on cosmetic work, you can't even tell I have fillings, plus she is a great conversationalist."
-Nelson, Jefferson City Dental Care patient
Advantages of Tooth-Colored Fillings
They closely match the appearance and color of natural teeth
White fillings bond to the tooth structure with chemicals. There are no grooves, slots or pins to hold them.
When white fillings are bonded to the tooth it restores 85-95% of the original tooth strength.
White fillings harden in seconds.
Dental fillings are easy to repair if for some reason they become damaged.
These dental fillings can be used on front or back teeth to maintain your smile.
What are White fillings Made of?
The most versatile and commonly used tooth colored fillings in cosmetic dentistry are made from a composite resin filling. A composite is a material that has filler particles encased and bound together by a hard matrix material. In the case of a composite resin filling a fluid matrix of an acrylic, named BIS-GMA, is hardened around glass filler particles to form composite resin. Trace metals like cobalt, gold and copper give a little color to the glass. Zirconium and titanium oxides are used to add opacity so they more closely match the opacity of natural teeth.
Get Tooth Colored Fillings in Jefferson City
Contact our restorative dentistry office in Jefferson City to make an appointment today!