Whiten
Teeth

With Your Jefferson City Dentist

Benefits | Safety | Treatment | Schedule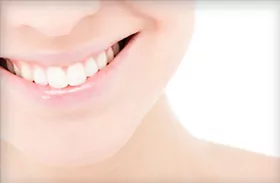 Have you ever looked at someone smiling and thought, wow! That smile is out of this world–it's so white and bright! And wanted your smile to be just as gorgeous?
The good news is, with cosmetic dentistry teeth whitening treatments that dramatically whiten teeth, you too can get a knockout smile!
Benefits of Teeth Whitening
It turns out there is good reason to want to want to whiten your teeth. Aside from the obvious fact that white teeth look better than stained teeth, there is research to support additional benefits from the improved aesthetics of your smile. Research indicates that whiter teeth can lead to better success in work and love life, with individuals with white teeth being seen as more confident, trustworthy, and financially successful.
Is Tooth Bleaching Safe?
Tooth bleaching is very safe to the teeth. It does not damage the enamel. It removes the stains from food built up over time.
There may be some sensitivity involved but it will normally only last 24 to 48 hours after the whitening session. If you have problems with sensitivity, please let Dr. Johnson know because there are pre-treatments we can do to mitigate that sensitivity.
At Jefferson City Dental Care, we offer tooth bleaching treatments:
Professional take-home trays — Another great tooth bleaching option to whiten teeth is professional take home trays. These are miles better than anything you can get at the drugstore or market. We create a custom made set of trays that conform to your teeth. In those trays, we supply a strong, professional teeth whitening gel to whiten teeth. You put the gel into the trays, then put the trays on for several hours, or ideally, all night. This take-home system takes a few days to a few weeks to get your teeth whiter and brighter. Additionally, you will need to repeat this treatment to whiten teeth at their best.
Schedule a Teeth Whitening Appointment in Jefferson City
Whatever tooth bleaching option you choose, we believe you may be astounded at how much brighter your smile will be after using a teeth whitening treatment from our office serving the Jefferson City area. For another cosmetic solution ask us about Invisalign clear braces to straighten teeth without the metal. If you are ready to get a knockout smile with beautiful white teeth, call today about our fantastic teeth whitening treatments!