Dental Veneers

Restore Jefferson City Smiles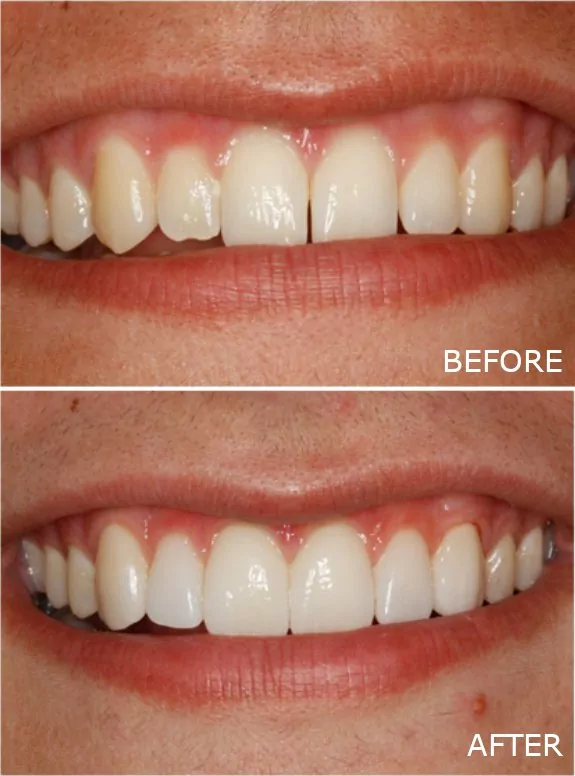 Do you wish to have a beautiful smile but have teeth that are cracked, chipped, spaced too far apart, discolored, broken or misshapen? It would be nice if there was a way to correct these problems that is quick and easy. Well, guess what? There is at our Jefferson City dentist clinic!
The answer is a cosmetic dentistry procedure known as prepless veneers, which are porcelain veneers that can be placed quickly and easily to give you a glowing, fresh, beautiful smile. We use the DURAthin prepless veneers or dental veneers for this treatment. DURAthin prepless veneers are an excellent product that is a proven tooth veneers treatment.
How do prepless tooth veneers work?
The dental veneers are made from porcelain, which may sound very fragile, but in fact are quite durable.
The tooth veneers are thin shells that are bonded to the front and sometimes the sides of your teeth.
The tooth veneers are used for a variety of issues, including repairing (by covering up) cracks, chips, gaps between teeth, discoloration, misshapen teeth, or anything otherwise unattractive in your smile.
Traditional dental veneers require that a thin covering of your original teeth be shaved off to prepare to bond the tooth veneers to your teeth. With DURAthin prepless veneers, no such preparation is required.
For the DURAthin prepless veneers, you will be measured for the tooth veneers. Then the specifications will be sent to the DURAthin prepless veneers lab, where your custom made porcelain dental veneers will be made.
On your next visit to our Jefferson City office, you will be fitted for the DURAthin prepless veneers and they will be bonded to your teeth. The dentist will then do more fitting once they are attached.
You will then walk out with a gorgeous smile made with DURAthin prepless veneers. We think you will be amazed at the dazzling smile you then have!
Schedule an Appointment for Prepless Veneers in Jefferson City
Our patients love the ease with which prepless dental veneers transform their smiles. If would like more information about DURAthin prepless veneers or simply want to schedule a consultation with Dr. Johnson, call, text, or contact our Jefferson City dentist office using the form on this page!